Our volunteers are very important to us, and contribute so much to the Riding for the Disabled success.
We ask for a regular commitment of 1 – 2 hours weekly (or more if people are available) to assist with RDA group lessons. You may also be asked to help with tack cleaning, and grooming the ponies.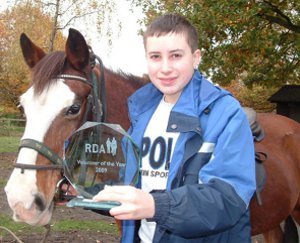 We are always seeking volunteers. It doesn't have to be horsey, we always need help with fundraising events, coffee mornings, book sales, collection days and the like.
In 2009 two of our volunteers – Christine Burvill and her son Robert – won the National RDA Volunteer of the Year.
Each year the National Riding for the Disabled Association award a trophy to the Volunteer of the Year for which any of the 500 groups could nominate their volunteers (of which there are about 18,000 in total). This was presented by HRH The Princess Royal (National President of RDA) to Robert Burvill and his mum, Christine at the Annual General Meeting of the RDA.
Both are always willing to help out with any task that needs doing, for example helping keeping water courses clear; cutting back bushes to keep pathways clear, and picking ragwort. These are in addition to helping with RDA group rides a couple of times each week, and keeping the horses tack cleaned.